In early March 2020, Saigon residents are happy to welcome the last Iris tower in Ha do Centrosa Garden Complex. This is the "brainchild" cherished for a long time recently by investor Hado Group. The project was not only completed timely but also exceeded the delivery schedule, which confirmed the prestige of Ha Do Group sent to customers.
Information about Hà Đô Centrosa Garden
Have you ever thought of a full life, affluent and modern but peaceful. Do you think that in the heart of busy Ho Chi Minh City "sprouted up" a high-class urban area but brought fresh air and closeness? The turbulent year of 2020 brought new energy to residents here when the Ha Do Centrosa Garden did topping out the last Iris tower. A project with a system of duplicating high-class complex has been delivered as promised.
Ha do Centrosa Garden Apartment Project is exactly as its name when the investor has designed high-class apartments combined with surrounding green areas. When you step outside, it will be a busy Ho Chi Minh City, but when you return to Ha Do Centrosa Garden, it is an extremely modern but extremely close garden.
Ha Do Centrosa Garden Complex owns a beautiful location at 200, 3/2 Street, Ward 12, District 10, Ho Chi Minh City. The first designs were introduced with 8 towers and more than 2000 luxury apartments, more than 100 townhouses. Right from the first days of construction, Ha Do Centrosa Garden has received a lot of attention from customers and investors. The project has received such a large number of people because it is both a continuous effort and long-term enthusiasm of the investor. In order to build Ha Do Centrosa Garden like today this had to go through a lot of difficulties and costs. Therefore, when the last tower Iris handed over, everyone was happy for Ha Do Group.
The project has a beautiful location, convenient transportation system for residents living here. The system of utilities is also meticulously invested to bring modern life, confirming the level of living here. Moreover, the space living is extremely unique and stylish, an open space is covered with green space to be fully utilized.
The completed Iris Tower affirms the prestige of the investor
As we know, any project needs customers and investors interested in and Ha Do Centrosa Garden was no exception. The project received a lot of attention was a success of the investor and when handed over ahead of schedule once again affirmed the prestige to customers. Although Ha Do Group is a new name in the real estate field, Ha Do Centrosa Garden project has affirmed their position in the hearts of customers and investors. When the Iris tower is completed and handed over, the customers fully trust and trust Ha Do Group.
When Ha Do Centrosa Garden Apartment Project laid the first foundation until 2017, more than 100 townhouses were handed over to customers and in just 9 months the owners had the ownership when receiving the pink book. By 2019, 4 Orchid 1 & 2 towers, Jasmine 1 & 2 were handed over by the Owner of Ha Do to welcome residents of the apartment to live.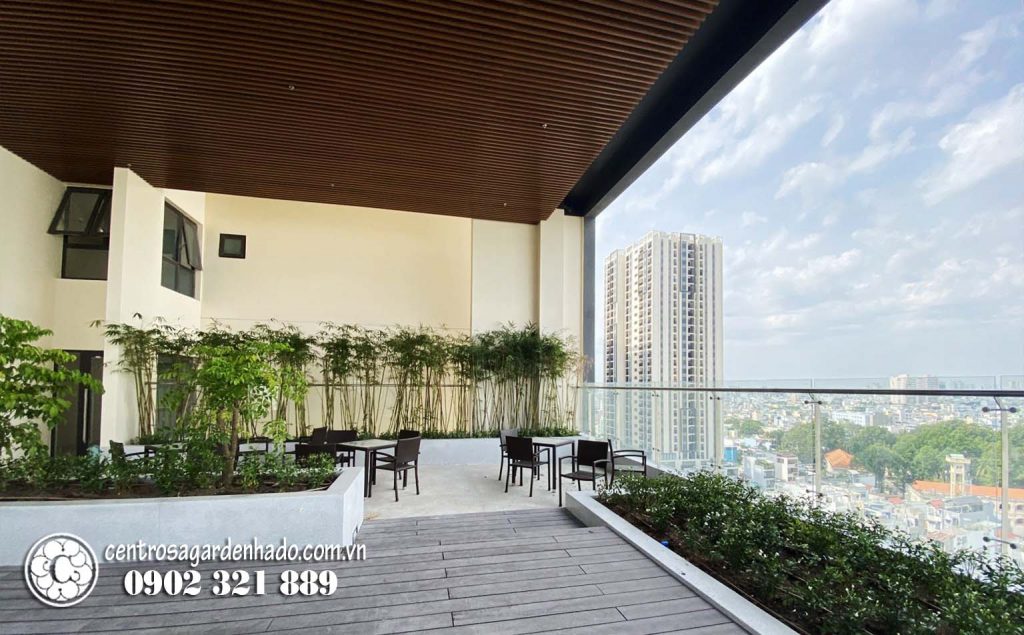 During a process of effort of the investor, construction contractor, designer … in March 2020, Ha Do handed over the remaining 4 Iris and the project was officially completed. In the nearest time, all 1,000 apartments of Iris Tower will be handed over to customers.
Located in a beautiful and extremely convenient location, the Iris Tower is located in contact with 2 main roads: 3/2 and Cao Thang. These are considered the most valuable roads in District 10 when owning many of the most valuable urban areas in Saigon. With such convenient location, the residents living here will be very convenient in moving as well as connecting with the surrounding utility areas.
The trust of customers and investors has been the driving force for the Ha Do Centrosa Garden Apartment project in general as well as the last 1,2,3,4 Iris tower to be handed over on schedule. Despite being a new name in the real estate village, Ha Do has been gradually bringing customers the most quality and classy products. Ha Do Centrosa Garden is not only a house but also a great place to experience with high-class facilities.